jQWidgets v9.1.3 Release, April-09-2020
What's New:
– Schematics for the Angular CLI – Add and Generation Schematics are added to jqwidgets-ng npm package for easier setup of Angular projects.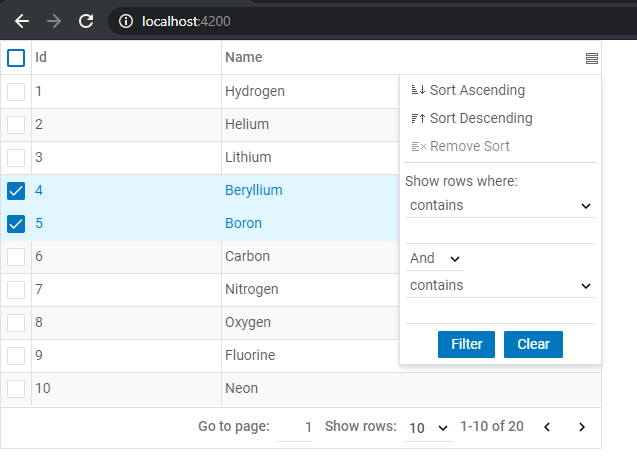 – jqxGrid Column Chooser. Modal dialog included in the Grid component, which allows you to dynamically show/hide grid columns.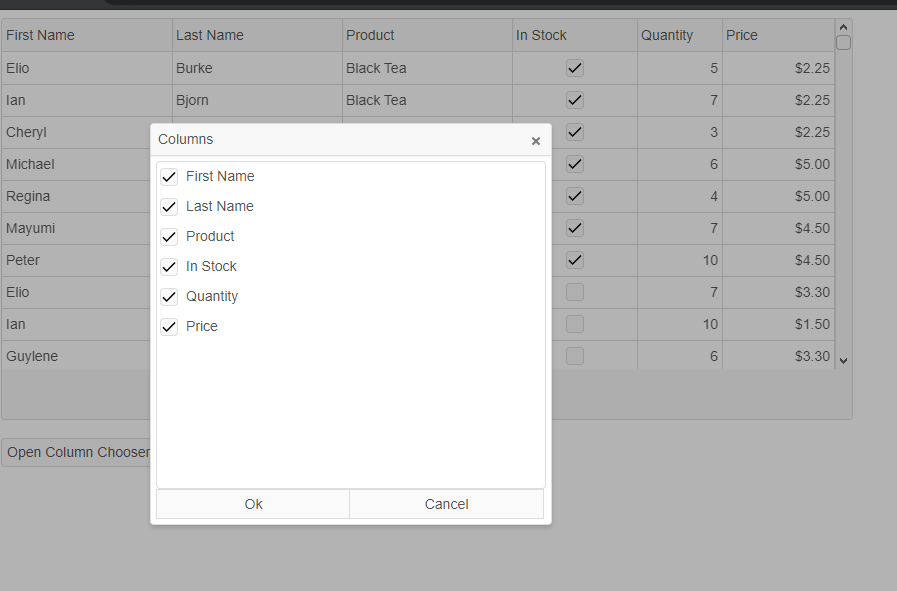 – jqxScheduler UI Virtualization, which allows you to load thousands of appointments/events in the month and timeline views.
– jqxDateTimeInput yearCutOff and full edit mode, which allows handling and validation of user input as in a standard input and also validates 2-year digits.
Example: if yearCutoff is 1926 and 01/01/20 is entered, 20 will be interpreted as 2020. if 01/01/54 is entered, 54 will be interpreted as 1954.
What's Improved:
– Angular Docs & Tutorials.
What's Fixed:
– Fixed an issue in jqxGrid charting IE11 support.
– Fixed an issue in jqxListBox – when using programmatically selection of all item the "getCheckedItems" method does not return all items in the "checkChange" event
– Fixed an issue in jqxGrid – when having more than 10 columns after the filtering in the next one there has appeared white strip.
– Fixed an issue in jqxGrid (React) – after filtering it break rendering of columns after 10th
– Fixed an issue in jqxSwitchButton – checked and unchecked events are swapped
– Fixed an issue in jqxGrid – when using sorting with option "many" and filtering it throws error
– Fixed an issue in jqxTree – error message with the newer version of the jQuery (v3.4.1)
– Fixed an issue in jqxGrid – when select/edit one cell and after that using tabbing it automatically checked the first checkbox
– Fixed an issue in jqxGrid – when using input inside the "rowdetails" option after tabbing from this input it select first row
– Fixed an issue in jqxPopover – close buttons closes all popovers on page
– Fixed an issue in jqxSwitchButton – with some the themes it looks like there is no chosen option
– Fixed an issue in Disabled button doesn't always block click event
– Fixed an issue in jqxGrid – keyboard navigation between groups broken when showgroupaggregates == true
– Fixed an issue in jqxGrid – cannot be grouped after toggling the "filterrow" option
– Fixed an issue in jqxComboBox – the "multiSelect" property and opening the list will select the first one
– Fixed an issue in jqxGrid – the "sortMode: 'many'" option only latest sorted column has correct options for its menu
– Fixed an issue in jqxGrid – not appropriate behavior when it is disabled – possible to change checkboxes
– Fixed an issue in jqxListBox – cannot be using the dragging feature after adding the new items
– Fixed an issue in jqxSwitchButton – there is no visual difference between disabled and enabled state